My Parents Lost their Hair, Will I?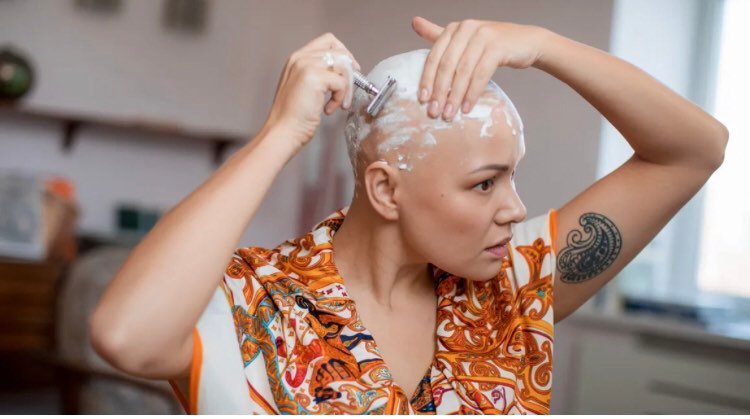 My parents lost their hair, will I? It's difficult to disentangle hard fact from myth but the myth that Male/Female pattern baldness is hereditary or simply genetics has survived the tests of time.
It is worth mentioning that, hereditary-pattern baldness is not a disease, but it is a natural condition. It results from a combination of genetics, hormones, and aging. This condition is also called androgenetic alopecia.
What is Androgenetic Alopecia?
According to Medline Plus, Androgenetic alopecia is a common form of hair loss in both men and women. In men, this condition is also known as male-pattern baldness. Hair is lost in a well-defined pattern, beginning above both temples. Over time, the hairline recedes to form a characteristic "M" shape. Hair also thins at the crown (near the top of the head), often progressing to partial or complete baldness.
The pattern of hair loss in women differs from male-pattern baldness. In women, the hair becomes thinner all over the head, and the hairline does not recede. Androgenetic alopecia in women rarely leads to total baldness.
My parents lost their hair, will I? If your mother's father is bald, the probability that you'll experience baldness is very high and the risk increases if your own father is bald. Even if baldness doesn't run in your mother's lineage, there's still a good chance that you might experience baldness! It's just complicated to predict. 
My parents lost their hair, will I? Find out here
For Women Going Through Hair loss or At the Verge of Baldness, This Story Told to Flare by Varsha Ramdihol Will Inspire You.
Sitting in a barber's chair facing the mirror, I soak in my reflection: a version of myself with long, dark hair before it was shaved off. It was a moment that I knew would be more important than my possible future wedding day. It marked the beginning of a shift in identity, a moment that changed my relationship to who I am and how I present myself to the world.
For my whole life, I had long, black hair. I'm an Indian woman. Long, luscious hair is simply a part of who I am, there are no other options, I thought. This binary mentality prevented me from seeing what was happening to me. My hair was falling out for years and I was in denial.
It started when I was 22 years old. At first, I was losing quarter-sized patches, but they always grew back and were largely unnoticeable, especially since I had long hair. I had chalked it up to shedding season. You lose hair, you grow hair, right? But those bald spots on my scalp slowly and subtly widened as more and more strands fell out.
Then once I entered my 30s, piles of hair were falling out. In the course of a few months, I had lost more than 60% of my hair and it wasn't growing back. It still looked long, but it was getting sparser and more straggly by the day. Every time I took a shower, it was like a funeral for my fallen hair. Some friends told me I might have alopecia, an autoimmune disease that was effectively attacking my body's hair follicles. Doctors confirmed this, and suspected stress as a trigger for the condition. They prescribed arthritis medication because some patients saw hair growth after taking it. They also recommended injecting steroids into my scalp to induce hair growth as well. That sounded horrific. I chose to do neither. I simply couldn't believe my body would attack itself—and to this day, I still struggle with the label of alopecia.
At the time, it felt like I was losing more than just my hair. Long hair was all I saw in my Indian culture and the women around me. And it was also tied into my idea of femininity. I feared both would slip away once my hair was gone. My mom and my auntie both pleaded with me to try to not shave my head, emphasizing how important it was for an Indian woman to have long, thick hair. I had never paid much attention to my hair, my Indian heritage or my femininity —but now they all seemed to be battling each other.
On Valentine's day of 2018, at the age of 31, I bought my first wig. It was dark, wavy and full. Very Priyanka Chopra. It gave me a piece of myself back—or at least, that's how I felt at first. But I soon realized its retrictions. I couldn't go swimming. I couldn't go to the gym and shower afterward. I couldn't go camping. I couldn't go to music festivals, or anywhere you'd get sweaty and need to wear your hair up. I couldn't do anything that had an ounce of spontaneity to it. I was angry. The wig looked perfect; but it didn't look like me. It was cute 24/7 but I'm not cute 24/7. More than that, having to remove this piece from my head at the end of each day felt degrading and diminishing. I felt like I was hiding a dirty little secret. And that secret was who I was and what was happening to me.
I had only been wearing the wig for two weeks when I decided to shave my head. There are very few moments in my life where I made a big decision without checking in with a friend, partner or parent. But this was one of them. It was a decision about my body, and I didn't need to consult with anyone but myself.
On the morning of the shave, I was freaking out. I needed to feel safe. I needed to feel like myself. So, I made a large thermos of chai and I packed up some beautiful vintage teacups to bring to the barbershop where this was going to happen. When I think about it now, the chai and teacups represented my culture and femininity, and I clutched to them for comfort in the most ironic of places, this temple of perceived masculinity—an authentic two-chair barbershop called Mi Hermano (which means "my brother" in Spanish). The barber, "El Jefe" Edison Vargas, opened early that day just for me.
It was a three-hour ordeal that began by trimming my hair down to mere inches. My boyfriend at the time was there too, and he shaved the rest down with hair clippers.
From there, Edison took over. He opened the pores on my head with a hot wet towel before lathering me up and using a straight blade to gently scrape away shaving cream and stubble. The sheer intimacy of the process was almost luxurious, but I was still trembling in my chair. I felt everything. I was simultaneously afraid and liberated. I smiled and cried at my new, bald reflection in the mirror.
After that day, it was strange to look at my shadow with the outline of a round head. The air felt colder. I became depressed. It felt like having an emotional hangover that lasted for months. I was scared to go out into the world because I stood out from everyone else but there were uplifting moments, too. People around me praised me for my courage and beauty. Strangers in coffee shops lifted their wigs to unveil their own thinning hair. I heard "You go, girl" whispered in passing. I started to feel less alone. Still, I had to learn to embrace who I was now, and love myself. I couldn't have done that without shaving my head. The act was almost like a metaphor for the parts of my life that I needed to part from.
When I rejected the need to mask my baldness, I also chose to reject my preconceived beliefs of what an Indian woman was supposed to look like. I asked myself, how do I want to engage with being feminine? How do I want to engage with being Indian? Now, I wear Indian sari blouses as crop tops. I read books to learn more about my culture. I also desire to be around women of colour so that we can empower each other. Without hair, my insides and outsides are in alignment. I feel more connected to both my femininity and my Indianness because I've had to examine those parts of my identity more carefully.